Skilled Nursing Facility: Frequently Asked Questions (FAQs)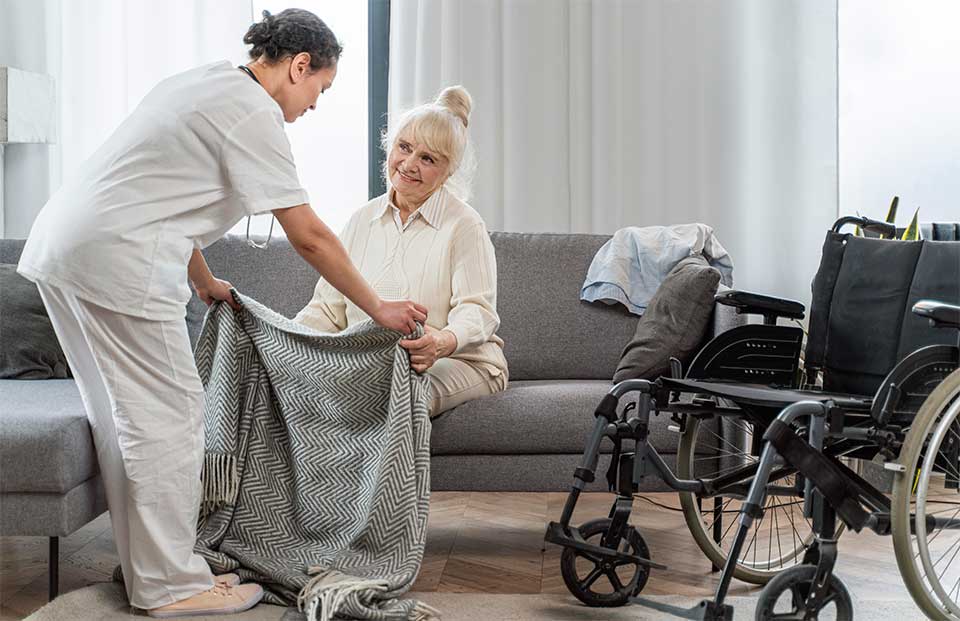 After a stay in the hospital, an elderly would often still need a certain level of health care that might not be available at home. This is where attending physicians would recommend staying in a skilled nursing facility.
Keep on reading to learn more about the skilled nursing facility and whether it is the right choice for you?
What is a Skilled Nursing Facility?
A skilled nursing facility is where patients can get treatment from trained medical professionals. These are nurses, physical and occupational therapists, speech pathologists, and more.
A skilled nursing facility provides the same level of medical care that you'd expect in a hospital. Treatments can include rehabilitative services for a variety of health-related issues. They also have round-the-clock care and are regulated by federal ordinances.
Skilled Nursing Facility vs. Nursing Home: What are the Differences?
Many people confuse skilled nursing facilities for nursing homes.
Sure, both facilities provide 24/7 medical care for senior family members. However, a skilled nursing facility offers short-term and rehabilitative stays.
Meanwhile, a nursing home provides extended or permanent arrangements. Assisted living facilities are often a better alternative for people who don't have a pressing need for round-the-clock medical care.
Who is Qualified to Go to a Skilled Nursing Facility?
So, when do you need to go to a skilled nursing facility versus any other long-term care facility?
Well, several factors can help determine your likelihood of needing to go to a skilled nursing facility versus any other facility.
One factor would be a recent medical issue. Most of the time, seniors who need to go to a skilled nursing facility have suffered from a severe illness or injury such as a heart attack. Thus, these people would need to rehabilitate before they can get back on their feet enough.
Another factor would be the level of care needed to treat the after-effects of a specific injury or illness. Sometimes, you could be well enough to leave the hospital, but you still need a certain level of medical attention. A skilled nursing facility can help the elderly transition from a hospital to their home.
Once the senior family member has recovered, you can consider going back home or going to an assisted living facility.
How to Choose a Skilled Nursing Facility
Before you settle with a skilled nursing facility, it's a good idea to discern whether the said facility is reliable or not. In relation to this, here are some questions you should ask yourself before choosing a nursing facility for an elderly family member:
Will your insurance cover your stay in a said skilled nursing facility? Your insurance might have a partner skilled nursing facility that you have to go to reap the benefits.
How well-maintained and decorated is the facility?
Do they have frequent experience dealing with patients with your illness?
Do they have the facilities, equipment, and medical professionals that you need?
Is this skilled nursing facility trustworthy and has a good reputation from previous patients?
Answering these questions should have a good idea of whether or not you should be staying in said facility.
How Long can a Patient Stay in a Skilled Nursing Facility?
Skilled nursing facilities are transitional care facilities. This means that they provide rehabilitative services until you can move on.
On average, the length of stay in said facilities is between 20 to 38 days. Once your stay in the facility is over, you can move to a residential environment such as an assisted living facility.
3 Factors that Determine Length of Stay in a Skilled Nursing Facility
To know more about how long an elderly is likely to stay in a skilled nursing facility, here are three factors that you need to consider.
Your Insurance
Your insurance usually dictates how long people will stay in a skilled nursing facility. That's because it can be costly. Therefore, it might be ideal to speak with the facility's billing department first. That way, you can discuss your coverage requirements first.
Patient's Skilled Care Needs
How much skilled care you require will determine how long you can stay in a skilled nursing facility. More so, if no one can adequately provide these professional needs at home.
Just keep in mind that just because a senior family member left a skilled nursing facility does not mean that they're fully recovered. Hence, you might need to hire someone who can look after your aging parent or grandparent afterward.
Lack of Progress
A lack of progress in the patient while in a skilled nursing facility can affect the length of their stay. When there's a lack of progress, it can be due to two things:
Cognitive Impairment
Cognitive impairment can be the reason an elderly is not progressing as fast as they could be. In this case, the staff in the facility should take the cognitive impairment into account during rehabilitation.
However, it's critical to continue the rehabilitative care after they get home to ensure that said patient will improve over time.
Lack of Participation
This means when a senior family member does not want to undergo rehabilitative care despite your efforts, they can be discharged from the facility.
What Services can You Get in a Skilled Nursing Facility?
Here are a few of the services you can expect from a skilled nursing facility:
Cardiac Care
These services provide needed care for patients recovering from cardiac-related illnesses or medical procedures.
Custodial Care
Custodial care would involve assistance with all activities related to daily living. For example, bathing, eating, and dressing are all a part of custodial care.
Nutritional Support
Skilled nursing facilities also provide healthy meals for patients relevant to their dietary needs to recover quickly.
Occupational Therapy
Occupational therapy helps patients improve their strength and provides adaptive equipment training. That way, patients can adapt to any physical or environmental hurdles part of daily living.
Physical Therapy
Physical therapy includes exercises that improve muscle and joint functions. It helps restore body mechanics, prevent further injuries, and relieve pain that comes with a patient's condition.
Pulmonary Rehabilitation
These refer to exercises and breathing techniques that are helpful for patients with chronic respiratory illnesses.
Recovery Care After a Stroke
Stroke patients are a frequent stay in skilled nursing facilities. Recovery care involves mobility restoration, speech and swallowing practices, and helping the elderlies get back as much independence as they can.
Wound Care
A part of a skilled nursing facility's services involves treatment and care for significant wounds. It is to prevent further infections and potential aggravation of these wounds before they can fully recover.
Does Medicare Cover Skilled Nursing Facility Costs?
Medicare Part A does cover a stay in a skilled nursing facility, but only under specific conditions and only for a limited time. That said, a senior family member must have Medicare Part A and have enough days in your benefit period. Aside from that, they should also have a qualifying hospital stay.
A doctor should also declare the need for daily skilled care under a skilled nursing facility. On the other hand, these facilities should receive certification from Medicare.
Do note that you won't have full coverage after the 20-day benefit period or however many days left are in your coverage.
What to Do if Medicare Denies Coverage for Skilled Nursing Facility Stay?
In case Medicare denies coverage of a patient's stay in a skilled nursing facility, there are a few things that you can do.
First, it's a good idea to communicate with your doctor about this. The doctor can help show that you have met all the standards needed for Medicare coverage.
If you find that Medicare is unreasonably limiting coverage, don't be afraid to appeal that decision. Although it will take some time, you are likely going to be successful with the appeal.
For further advice on what you can do, consider calling the Center for Medicare Advocacy. They can provide you with some free advice or other legal help.
What to Do After a Stay in a Skilled Nursing Facility?
Once an elderly is discharged from a skilled nursing facility, there are a few things you need to consider before you can get back on your feet.
In some cases, especially for seniors, recovery times do take a lot longer. In this case, it would be a good idea to get an assisted living arrangement. That way, they can continue working towards recovery while still being in a residential setting.
If you have Medicare, don't forget to avail of your Medicare-covered home health benefits. This benefit is usually time-limited, so make sure to avail your benefits once or before you get home.
Skilled Nursing Facility vs. Assisted Living
Being discharged from a skilled nursing facility doesn't guarantee a full recovery. It does not mean that the patient's condition is ever going away, either.
In cases where your senior family member can't make a full recovery at home, perhaps staying in an assisted living facility might be your best option.
Assisted living can provide your elderly loved one some nursing and custodial services while at home. You can also use it alongside your Medicare-covered home health care for an extra level of care.
Conclusion
A skilled nursing facility is a transitional, rehabilitative health care arrangement. It is a service that your senior family member can get after undergoing significant medical procedures.
Hopefully, this post has clarified what it is to know what to expect if you need to stay in a skilled nursing facility.
Sign up to Our Newsletter